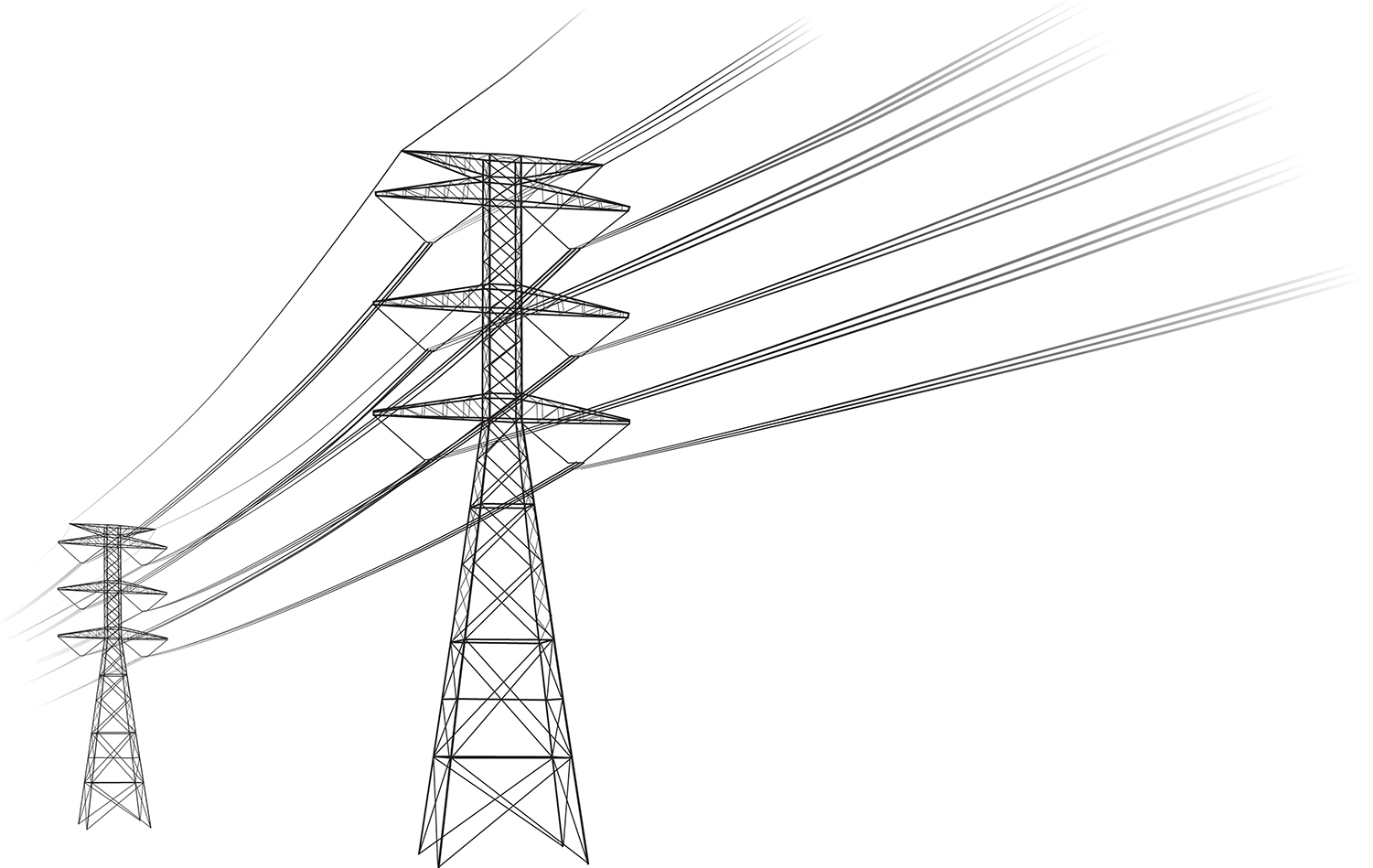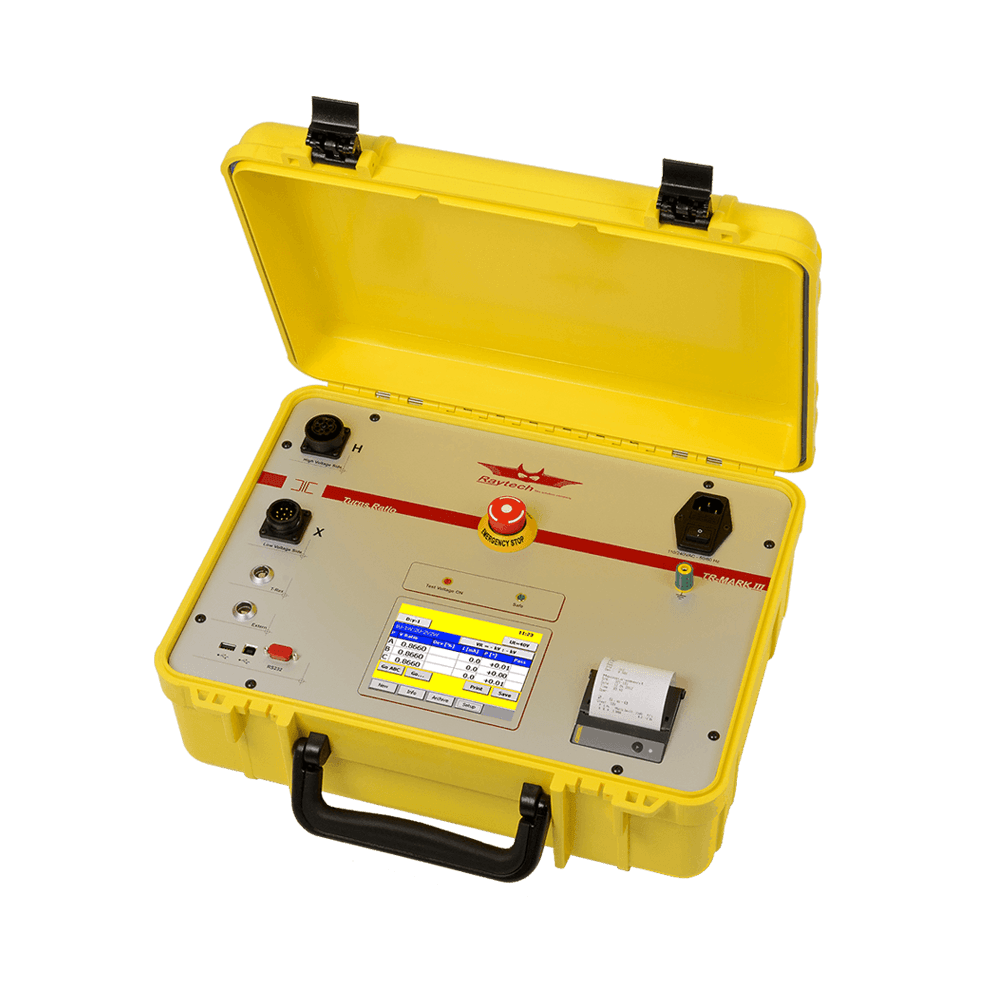 TR-MARK III 250V
Turns Ratio Meter 3 Phase
Product variant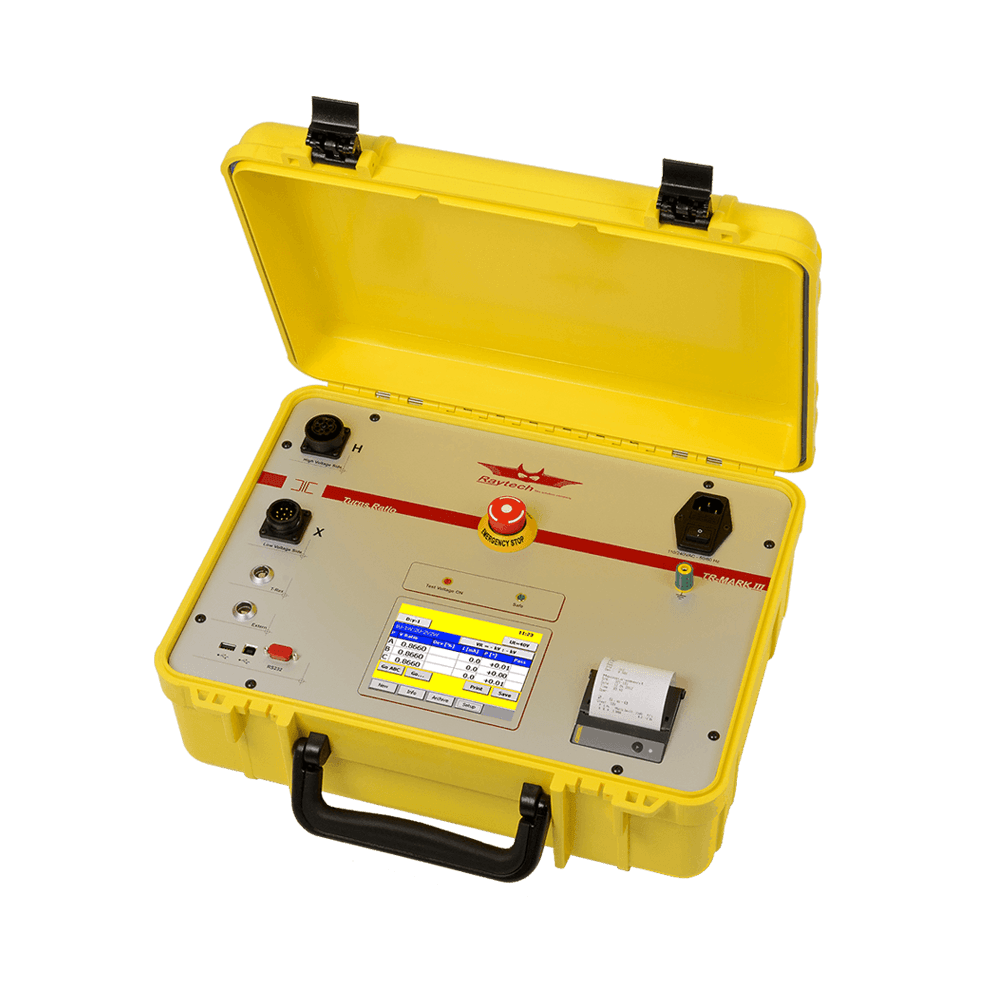 Field
---
Description
The TR-MARK III 250V is a 3-phase power transformer test instrument specially designed for professional turns ratio measurement. The professional turns ratio measurement is not just a typical pass/fail test to check that the deviation error is less than the limit values! For precise diagnosing and preventive maintenance, high precise measurement is required. In addition to precision, the TR-MARK III 250V provides useful tools such as the plotting tool on the colour touch display for this aim.

The TR-MARK III 250V can perform the full turns ratio measurement in the least possible time and in a fully automatic easiest way. For a three-phase two-winding power transformer, only one time hook up of the test clamps is required.

The on-load tap changer or motorized de-energized tap changer can be controlled automatically by the instrument. Even the actual tap position can be identified automatically, thanks to the smart features of the TR-MARK III 250V. The full three-phase measurement of the turns ratio, excitation current, phase displacement and calculated deviation error for all taps can be performed fully automatic without the interaction of the user during the measurement.
Features
Measurement Methods
Power transformers, PT's and CT's measurement
Turns Ratio, Excitation current, Phase displacement and Deviation error measurement
Additional Features
Easy one time hook up to the transformer
Tap changer automatic control connection and external test switch for manual tap changing
Load on test object <0.05 VA
Automatic vector group identification
Automatic selection of suitable test voltage
Automatic actual tap position identification
Optional T-REX external source, to generate 3 phase pure sine wave for special measurements.
User Interface and Data Management
User-friendly interface
Test object Profile and Template creation, import and export
Data exchange via USB-Key, serial cable and USB cable
Free T-Base Pro software for data exchange, profile and template management and report generation
Report generation in various formats
Full remote control T-Base Pro PC software (Optional)
The free command set for remote control of the instrument
Durability and Support
The enhanced smart heavy-duty protection system
Extremely rugged (can withstand a drop test of 1 meter)
Software and firmware update
Raytech technical support
2 years standard warranty
Specifications

Portable to use indoor and outdoor including heavy industrial electromagnetic environments
Industrial high-impact plastic case
IEC 60320, C13/C14 mains connector, CAT II
90-132/ 180-264 VAC @ 47-63Hz
Test voltage user selectable:
1, 10, 40, 100 and 250VAC
Touch screen, support mouse and keyboard
2 USB 2.0 full speed (1 host, 1 device) and 9 Pin RS232 serial
Internal 1.9" thermal printer, support external printer direct connection
-10°C (14°F) to +55° C (131°F)
-20°C ( -4°F) to +70°C (158°F)
Degree of protection (closed door):
IP67, dust-tight and water immersion up to a 1-meter depth
L: 472 mm (18.6") W: 368 mm (14.5") H: 196 mm (7.7")
See Instruction Manual for more Parameters
Specifications are subject to change without notice
Accuracy

Turns ratio at 100V or 40V