---
Description
The CT-T1 is a microprocessor-based Current Transformer Tester that measures CT excitation current, turns ratio, and winding polarity tests, all without having to switch the leads during testing. The instrument has a fully automatic knee point detection (ASA 10/50, IEEE 30°, IEEE 45°). Although includes 5 low side taps and 1 high side tap.
This CT Tester is precision-made, just like all of the Raytech products you already know.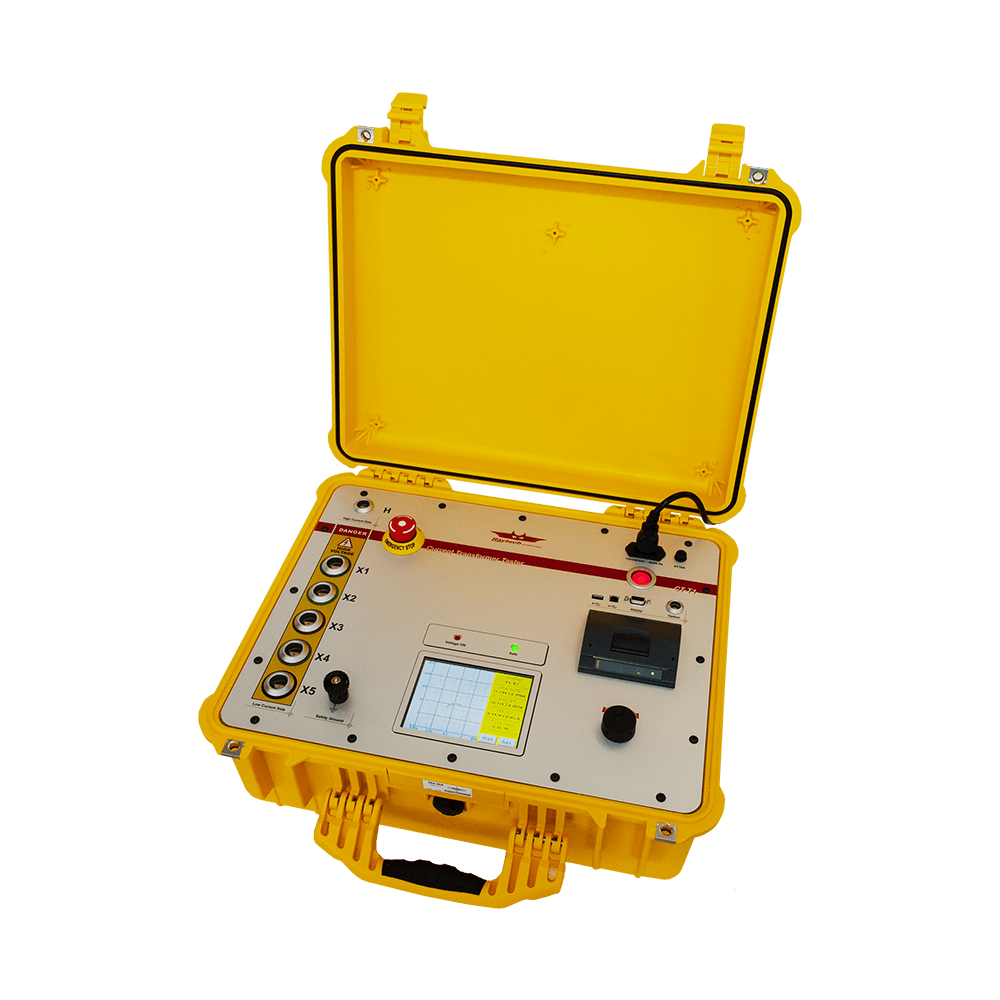 Features
Fully automatic knee point detection (ASA 10/50, IEEE 30°, IEEE 45°)
Ratio range of 0.9 to 15'000
5 low side taps, 1 high side tap
Performs CT excitation, turns ratio, and polarity tests on current transformers CT
Can be used to performs turns ratio test on voltage transformers VT
Manual or automatic degauss and measurements
Easy, one-time hook up for up to 5 CT taps
Automatic test voltage range with changeable limits
Easy to use tap selector interface
Data storage of more than 10'000 measurements
Color 5.7″ LCD touch screen display for easy operation
3″ graphic-capable printer
Two USB interfaces and one RS-232 serial port
Mounted in rugged case for field testing
2 Year standard warranty
Specifications

L: 521 mm (20.5") W: 432 mm (17") H: 216 mm (8.5")
115 / 230 VAC, 50 / 60 Hz (auto ranging)
5.7" Color LCD with back light and touch screen, additional digipot
2 USB 2.0 full speed (1 host, 1 device) and 9 Pin RS232 serial
Internally stores more than 10 000 test results
See Instruction Manual for more Parameters.
Specifications are subject to change without notice.
Accuracy

In the box
Downloads
Firmware CT-T1
Category:
Firmware
Release:
1.0.2.0
Publish Date:
18.12.2020
Description:
This is the newest Firmware for the CT-T1
Installation:
recommended
Flyer CT-T1
Category:
Flyer
Release:
17.09
Publish Date:
26.04.2020
Description:
Short Overview about CT-T1
Instruction Manual CT-T1
Category:
Instruction Manual
Release:
1.30
Publish Date:
14.10.2020
Description:
This is the instruction manual for the Current Transformer Tester CT-T1